The Hole in the Ozone Layer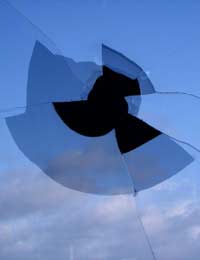 When scientists first discovered that our planet was protected by the ozone layer, it was regarded as a static feature of Earth – in much the way that we take our atmosphere and the presence of oxygen for granted.
However it later became clear that the ozone layer needs our protection in return for the protection it affords us – and that led to a ban on many ozone depleting substances.
Discovery of the Hole
The hole – which is actually a radical thinning of the ozone layer – was discovered in 1985 by the British Antarctic Survey (BAS). Rumour has it that the team initially believed their equipment must be faulty and ordered new instruments to double check their findings.
The discovery hastened international action to reduce the production and use of ozone depleting CFCs, and led to the Montreal Protocol.
British scientists have been measuring Antarctic ozone since 1956. They began to take recordings in a bid to understand ozone's important role and soon found that ozone levels depend on a variety of factors, including seasonal temperatures. However, their research turned out to be vital in alerting the world to ozone depletion.
Seasonal Variations
Ozone levels in Antarctica begin to fall in spring and reach their lowest point around October before gradually building again until the following spring.
One of the most frequent questions that people ask about the ozone hole is why it should happen over the Antarctic.
After all, it makes much more sense for it to occur over parts of the world where CFCs and other depleting substances have been most used.
The answer lies in a combination of factors which include the special weather conditions that exist there. This creates a special type of ice cloud, known as polar stratospheric clouds (PSC.)
Temperature is a Key Factor
PSCs form when temperatures drop below a certain threshold (approximately minus 78 degrees celsius) and are responsible for a reaction which creates chlorine gas and is damaging to ozone.
Since other parts of the world don't have the same low temperatures, deep "holes" in the ozone layer are less likely.
Less dramatic holes have occurred over the Arctic for a few days at a time and, in 1996, a very small and short-lasting ozone hole passed over Britain.
Ozone is measured in Dobson Units and an average reading would be around 300 DU. An area having less than 220 DU is regarded as a "hole" in the ozone layer.
Record Ozone Hole
In recent years, the Antarctic ozone hole has reached a maximum size of around 10.5 million square miles – an area larger than the entire Antarctic continent and ozone levels of less than 100 DU have been recorded.
In September 2006, the largest ozone hole recorded to date was confirmed by NASA scientists. It was a lot smaller the following year, but experts said this was more to do with different atmospheric conditions than an ozone recovery.
This was confirmed by the size of the 2008 hole, which was larger than the previous year (although it didn't reach the record size of that recorded in 2006.)
You might also like...