The Ozone Layer: Future Challenges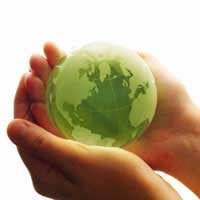 The Earth's ozone layer is now in better shape than it has been for a number of years, but there are a number of challenges involved in returning it to its pre-1980 levels.
In the 1980s, measurements showed that ozone levels were 30% less than they had been a decade earlier and, had it not been for the Montreal Protocol and the new regulations which followed, it is believed that ozone levels by now would have dropped by more than 50%.
Instead, we have turned the corner. In most parts of the world ozone levels have remained static for the past couple of years, and in some countries ozone levels have begun to slowly increase.
Threats Still Exist
However, the global community still faces a number of challenges in ensuring that ozone levels continue to rise. The continued use of ozone-depleting substances (ODS) could affect the success to date, and in many countries, the enforcement of regulations on ODS is seen as weak.
The United Nations says the release of harmful chemicals is still taking place, and governments must remain vigilant. It is also important to ensure that some poorer countries have the resources to comply with the increasingly stringent international rules.
Black Market Trade
In some parts of the world, there is now illegal trading of CFCs and unauthorised manufacturing of some ozone-depleting substances continues.
Experts are also concerned that the production and use of HCFCs in some countries was still increasing in 2006, despite an agreement to freeze their use by 2016 and completely phase them out by 2040.
In recent years, overall use of one ozone-depleting substance, methyl bromide, has dropped sharply in many industries, but there is growing evidence that it is now being more heavily used for quarantine and pre-shipment procedures.
Storage Of Ozone-Depleting Substances
Many countries now have special facilities for the destruction of equipment, such as fire extinguishers, which contain halon.
However, there are also many storage facilities, known as storage banks, for a wide range of ozone-depleting substances.
In the UK, there are strict regulations about the recovery and storage of ODS. Systems are in place to store them safely, but experts say that worldwide there is potential for any of these banks to begin leaking in the future, so work is continuing into methods of safe disposal.
In addition, large amounts of ozone-depleting substances, which had been produced before their use was banned, were stockpiled by companies and there is a risk that they could leak into the atmosphere if not stored safely.
Questions Still Unanswered
One of the biggest hurdles yet to overcome stems from the current lack of knowledge about the exact relationship between ozone depletion and climate change.
Although they are dealt with as separate issues, there is an undisputed connection between the two.
Ozone depletion itself causes a cooling effect but it is a very complex issue, involving a number of factors, and scientists say there are still so many unknowns that it is difficult to make accurate predictions about the future of either ozone levels or climate change.
You might also like...