Ozone Safe Products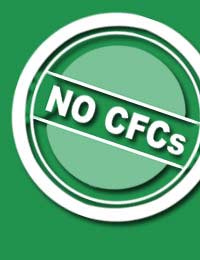 Until CFCs were banned because of the damage they were causing to the ozone layer, they were used in a huge range of products in aerosol cans – such as deodorants and hairsprays or cleaning products such as furniture polish.
Aerosol products no longer use CFCs – and the use of CFCs has even been outlawed in asthma inhalers.
Most fridges and freezers currently in use in the UK still contain CFCs but new, totally ozone-friendly fridges are now on sale so when you need to replace your appliance, make sure that you choose one without CFCs.
(Of course, when disposing of your old fridge you need to make sure that the CFCs are safely removed, otherwise you will still be contributing to ozone depletion.)
Eco-labelling
As long ago as 1992, the European Community set up a scheme to encourage the production of products that are friendly to the environment.
For example, it awards 'eco-labels' to products that don't contain CFCs or those which are energy efficient or can be recycled.
Some of the first awarded the new label were light bulbs, hairsprays, writing paper and washing machines and the European Environment Agency advises householders to look for products that carry an "environmentally-friendly" tag.
Ozone Depleting Substances
It's important to remember that even if a product does not contain CFCs, it can still contain chemicals that are responsible for ozone depletion.
And many widely-used household products – particularly cleaning products – contain chemicals that are not good for the environment in general or for your health.
Experts believe that the air in many homes is more polluted than outdoor air because it has been polluted with toxins from a range of products so if you have the time, why not do it the old fashioned way and stock up on traditional cleaning ingredients?
Vinegar, for example, has literally dozens of cleaning uses – so many in fact, that books have even been written about it.
And in many cases, you can clean perfectly well with plain detergent and water coupled with some elbow grease!
In their advertising copy, many manufacturers now claim that their product has "the smells of nature" but if you use natural ingredients it costs a lot less. And of course you can easily get the genuine article (real lemon-scent for example) simply by including a little lemon juice in the cleaning water.
Avoid Aerosols
Wherever possible, buy products that use a pump-action, rather than an aerosol and remember that many common purchases, such as room air fresheners, can contain ingredients that are not good for the environment.
Not too many homes in the UK have air conditioning or fire extinguishers, but if yours has, then it's important to find out whether the air-conditioning unit contains CFCs.
Older, halon fire extinguishers are now being replaced by more ozone-friendly extinguishers and the halon type need to be disposed off in a safe way.
Unfortunately, we have not yet reached the stage where consumers in the UK can get information quickly and easily about which common household products are the most or the least damaging to the ozone layer – or whether the manufacturing process contributes significantly to ozone depletion.
You might also like...