The Ozone Layer and Climate Change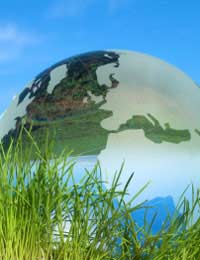 Many people wrongly believe that the Ozone Hole and climate change are the same thing.
However, although experts now agree that both are inextricably linked, they are two separate issues.
And one of the main problems facing attempts to deal with the problems is that action taken over one could make the other worse.
For example, there have been suggestions that if we released sulphur compounds into the atmosphere they would have a cooling effect (and therefore help to combat global warming).
But sulphur in the stratosphere would cause greater ozone depletion and lead to a larger Ozone Hole.
Ozone Hole Repair
Similarly, by banning ozone depleting substances such as CFCs, we hope that the Ozone Hole over Antarctica will eventually close up – but if it does, that will almost certainly contribute to further global warming.
Temperatures in the region will increase and that would lead to more melting of the polar ice and increased problems of rising sea levels elsewhere.
At the moment, temperatures at the opposite side of the globe, in the Arctic, are rising twice as fast as elsewhere on the planet. In 2000, the Ward Hunt ice shelf – the largest block of ice in the region – began to crack. It had been there for thousands of years but within just two years it split right through and it is now breaking up.
Polar Ice Being Lost
Satellite images belonging to NASA show that the entire polar ice cap is shrinking and the amount of permanent ice in the region is dropping by almost 10% every decade.
This has produced claims that by the end of this century, summers in the Arctic could be totally ice free.
Already, the warming of the region has caused problems. In Alaska, for example, a bark beetle is breeding much faster because of the warmer temperatures and between 1993 and 2003, it devastated almost 3.5 million acres of forest in Alaska.
Global Threat
Continual melting of polar ice threatens the entire world – bringing problems of coastal erosion, increased flooding and the contamination of fresh water areas.
Computer modelling has already established that continued temperature increases will mean major problems for parts of the USA. In Kansas for instance, wheat farmers need freezing temperatures to grow winter wheat and higher temperatures in the summer would reduce the moisture content of soil and dry out crops.
Back in the 1980s, researchers proved that manmade chemicals were responsible for damage to the ozone layer but it wasn't until 2007 that the world's leading climate scientists said they were now agreed that our burning of fossil fuels is the main reason for global warming.
Another Manmade Problem
They said they were now at least 90% certain that man is causing climate change and, like ozone depletion, the damage we've caused would take many years to rectify even if we stopped polluting our atmosphere with fossil fuels tomorrow.
Tests carried out show that the levels of C02 in our atmosphere are currently at their highest level for at least 650,000 years.
And unless we take radical action to cut the use of fossil fuels – such as oil, gas and coal – the global warming problem will continue to worsen.
You might also like...