How Ozone Damage has Affected the Lives of People in Chile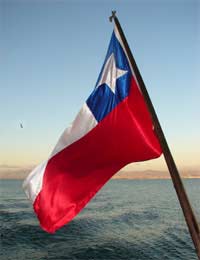 The city of Punta Arenas in Chile is one of the world's southernmost cities – and its residents know only too well the dangers of the Ozone Hole.
For the past 20 years, it has been exposed to higher levels of UV-B due to its proximity to the Antarctic ozone hole and its 150,000 inhabitants have had to make changes to their lifestyle to take the hazards into account.
Skin Cancer Research
From 1987 to 2000, researchers studied cases of skin cancer and found that the numbers of cases diagnosed had increased by more than 65% on previous years.
Ozone levels as low as 145 Dobson Units were recorded – a decrease of more than 50% on the levels previously recorded.
For over a month in 2000, people in the city were warned not to go out in the sun between the hours of 11am and 3pm unless it was urgent. If they needed to go out they were told to take precautions such as wearing a wide-brimmed hat and long sleeved clothing, using a strong sunblock and UV-protected sunglasses.
Alert System for City Residents
A special UV warning service has now been established which alerts residents when UV radiation is at its worst and burning could occur within five minutes. In addition, the media carry daily UV reports giving the levels of radiation.
Since the discovery of the ozone hole, the people of Punta Arenas have had to contend with grossly exaggerated stories appearing in the press, suggesting that trees in the city would be reduced to ashes in a few years and that UV radiation had turned local sheep blind. (In fact, tests by vets established that the animals were simply suffering from an infection known as pink eye).
Capital City More at Risk
More recently, researchers in Chile announced that although Punta Arenas is the closest city to the ozone hole, people living in the country's capital, Santiago are actually more at risk from radiation.
Due to the acute angle of the sun over Punta Arenas, solar radiation is less intense. In addition, due to its cold and windy climate, people spend a lot of time indoors and are unlikely to venture out with bare arms and legs – unlike those living in the warmer climate of Santiago.
A number of years ago, official concern about ozone levels led the environmental authorities in Chile to launch a project to eliminate the use of chemicals containing methyl bromide, which is an ozone depleting substance.
Pesticides Damage the Ozone Layer
Previously, methyl bromide was used in most regions of the country in a pesticide for fruit crops and between the late 1990s and 2001, imports of the substance jumped from 380 tons per year to 550 tons.
In 2006, Chile passed its own Ozone Act and its environmental commission launched a campaign asking people to protect the ozone layer.
Awareness raising events included a painting competition for primary school children on the theme of protecting the ozone layer.
Chile has a number of ozone level measuring stations and continuous research into the state of the ozone layer is conducted at two of its universities.
You might also like...
What kind the paper I will need ,if I want to go tiwan please ,now I leave chili.