How Ozone Depletion will Affect Global Plant Life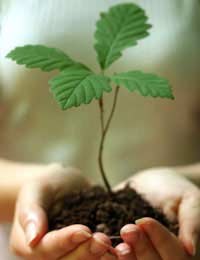 Plantlife on earth is vital to both humans and animals. Without the smallest of plants, small creatures couldn't survive – and that would have major impacts on our food chain.
Fears about the effects of ozone depletion has led to a variety of experiments and research being conducted but it is difficult to exactly replicate the natural situation since artificial UV light differs from UV from the sun.
Crop Sensitivity
Tests have shown that some varieties of crops are sensitive to increased UV-B exposure and it could cause a reduction in yield. However, some crops are UV-B tolerant and this provides an opportunity for scientists to genetically engineer more tolerant strains.
If ozone depletion began to seriously affect crops, then genetic engineering could be used by commercial growers but this wouldn't solve the problem of UV sensitivity in plants or trees growing in the wild and many smaller animals and birds rely on wild plants for food.
Long Term Exposure
Researchers also believe there is some evidence that although the effects of UV-B on some plants appears to be minimal over a short period of time, they may accumulate over a longer timespan. This suggests that the effects of long term exposure to increased solar radiation could be much worse.
Fortunately, many plants have inbuilt radiation 'shields' and in most, only a small amount of solar radiation actually penetrates far into the inner tissue. Some plants also possess the ability to increase the pigment that absorbs UV radiation.
In one test carried out on 200 agricultural plants, more than 50% were sensitive to increased UV-B. Even within a species, there can be differences in the way that different varieties cope with or can adapt to additional solar radiation. However, experts believe that ozone depletion of 10% or more could have a serious effect on many crops and plants.
UV-B Can Cause Cell Changes
Research to date suggests that ultraviolet light can cause changes in the molecules of plants, such as those that control growth regulation and this could mean smaller plants, different flowering times and problems for the pollination cycle.
Certain crops including peas, soybean, cabbage, lettuce and squash are thought to be more affected than others by UV radiation. In humans, people with a darker skin colour have more protection against burning in the sun and the same applies to plants. Some are a darker colour and this makes them less susceptible to damage from the sun.
The University of Guelph has been investigating the effects on crop plants based on a forecast of depletion of the ozone layer of between five and fifteen percent.
Preliminary Results
Early results suggested that cellular changes can occur in some plants after just four days of increased UV exposure.
Researchers believe that plants can be affected by radiation in a number of different ways. For example, increased radiant energy can affect the tissue temperature and this has an effect on metabolic processes. Solar energy of a certain wavelength also provides growth cues for plants.
You might also like...
I really love this article and its great for my research paper about the effects of ozone depletion on life on Earth. However, I'd like the author to add some sources to some claims the author makes so it would be well-organized and that it is cited. For instance, research, scientists and any third person should be cited so we know where the information came from. Thank you!
steven7
- 20-Mar-19 @ 9:58 AM